NEW BOYLAN ENGINEERING OFFICE NOW OPEN IN DUBLIN 15
Boylan Engineering recently opened our Dublin office in Damastown, Dublin 15. The initiation of the Dublin based office has come about through our continued business growth and this new office facility was setup to provide a local hub close to our Dublin based projects and also to facilitate meetings with our Dublin based clients.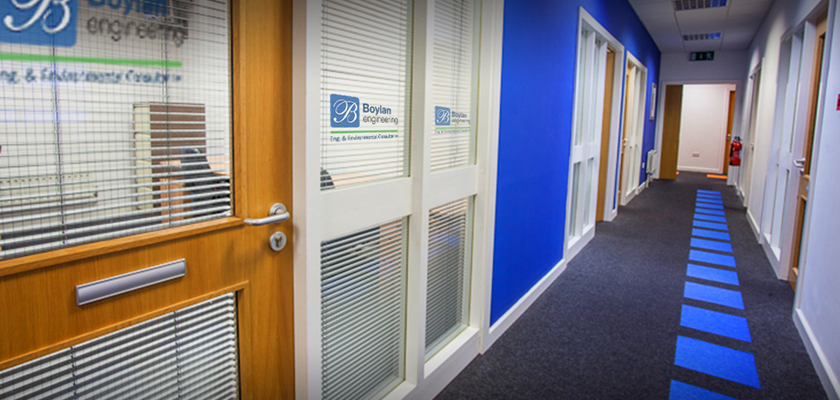 RECENTLY WON PROJECTS IN DUBLIN BY BOYLAN ENGINEERING:
Specialised foundation design for processing plant in west Dublin
Boylan Engineering were awarded the contract to undertake the structural design of a pair of 3m high concrete piers and associated foundation, designed to support a 39 tonne dead weight processing machine. The machine can impose a combined horizontal dynamic loading of up to 580kN (59 tonne) on the 3m high piers. The design included assessing not only the dead and imposed loading, but also the dynamic loading, ground bearing capacity, concrete curing issues and concrete mix design. The contract also included tendering for main contractor and construction supervision.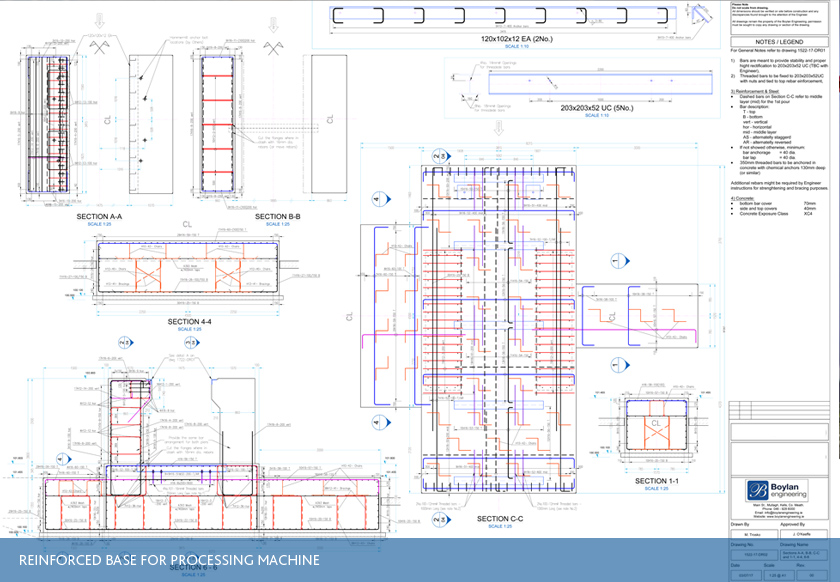 Assigned certifier / Structural Engineer
An established waste recycling company recently engaged our services to manage the site selection and development of a waste processing facility in the South Dublin area. Boylan Engineering shall provide the following engineering services; planning, civil, structural, environmental (including EIS & Waste Facility Permit) and project management.
Assigned certifier / Structural Engineer
Boylan Engineering are regularly engaged as the structural design engineer on many domestic renovation, refurbishment and house extension type projects. Many of the designs incorporate large open plan, vaulted ceiling areas, to the rear of the house. Our brief is generally to develop a structural design solution that incorporates the architects brief and vision, while ensuring that the buildability and thus efficiency is also maintained. The image below was captured in Sandyford, Co. Dublin and incorporated a standalone steel portal type frame that directed roof horizontal forces safely to ground and thus avoided roof spread. We have completed many similar projects in the general Dublin area.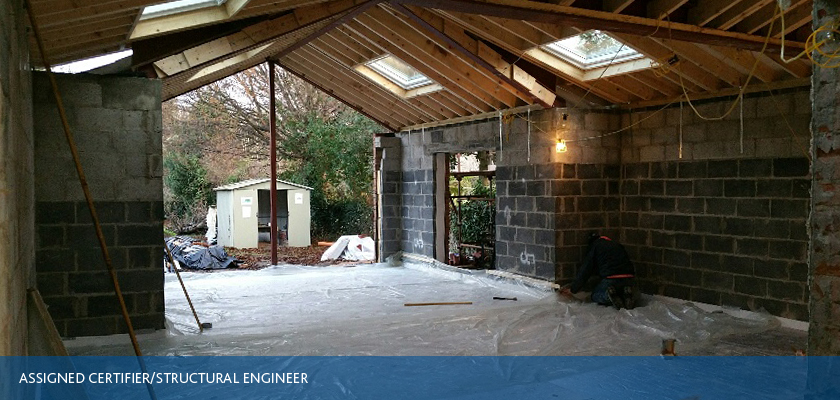 BOYLAN ENGINEERING DUBLIN
Unit 9a, Plato Business Park. Damastown, Dublin 15, D15 PA4C
Tel: +353 (0)1 853 7314. Email info@boylanengineering.ie